Sponsors & Partners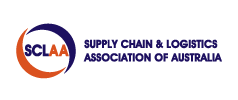 The Supply Chain & Logistics Association of Australia (SCLAA) is Australia's largest association for Supply Chain and Logistics professionals and practitioners. Key focuses for the SCLAA are its' Future Leaders Group - fostering up-and-coming industry talent - and the annual Australian Supply Chain & Logistics Awards, now in its' 57th year.

We are a member based organisation, run by volunteers actively practicing in the industry. Our mission is to serve and advance the interests of Supply Chain and Logistics professionals and practitioners across all industries and functions. We do this through the development of the profession & practice, collaboration with industry stakeholders, educational & networking opportunities, and promotion & recognition of innovative leading practice in Supply Chain & Logistics.

For more information, please visit www.sclaa.com.au
---
ProjectLink is one of Australia's biggest online directories for the building, road, landscaping, mining, port and railway sectors.

ProjectLink has been specifically designed to connect key industry specifiers and customers to relevant suppliers in order to source products & services for commercial, residential, industrial and major projects.

"Can't find the product? ProjectLink will source it for you".

For more information, please visit www.projectlink.com.au
---


C.R. Kennedy is your national partner for all positioning needs from survey to machine control to building construction and everything in-between. Wherever you are in Australia, C.R. Kennedy are with you, providing an unparalleled level of service and support from industry experts to get the job done safely and efficiently.

For more information, please visit survey.crkennedy.com.au
---

Vac Group are able to offer the products and capabilities through extensive R&D and in house manufacturing that will mitigate the risks associated with what lies beneath the surface.
Vac Group Operations is made up of our Vacuum Excavation division " Vac Group" Our highly innovative soil recovery division " Soil transfer" our Utility location division "Earth Radar Utilities" and our Road and Pavements division "Earth Radar Pavements"
As a company we offer Vacuum Excavation , Subsurface Utility Mapping (SUI) , 3D Ground Penetrating Radar, Road and Pavement Surveys , Surface Imaging and Crack Mapping just to name a few with most of the technologies developed and built in house to suit our client's needs.
We are an Australian owned and operated company founded in Brisbane now with a national and international presence.
No matter how varied the scope of works or the complexity of the risks of the underground Vac Group's friendly and dedicated staff will be able to offer solutions and technologies to assist in ensuring the works can be completed safely and efficiently.
For more information, please visit www.vacgroup.com.au
---


Ai Group Apprentice & Trainee Centre is the specialist Apprentice and Training Division of Ai Group.

Ai Group ATC works across a broad range of industries Including; engineering, manufacturing, infrastructure, transport/logistics, building/construction and telecommunications.

We have a national team of highly qualified Employment and Training Consultants with extensive industry experience and can provide a range of apprentice & trainee management options.

We have trained and/or employed over 15,000 apprentices since 1961.

For more information, please visit www.aigroupapprentices.com.au

---
Nearmap simplifies infrastructure planning with detailed and precise site information, delivered to the desktop. Capturing 88% of Australia's population, Nearmap PhotoMapsä delivers the most current, high-resolution aerial imagery of urban and regional metro areas.

From bare-earth to finished asset, Nearmap captures every stage and builds a high-impact visual timeline of the progress of your entire development.

For more information, please visit www.nearmap.com.au

---


The Major Projects Facilitation Agency (MPFA) is a single point of entry into the Australian Government for domestic and international major project developers and investors. The MPFA provides tailored information and facilitation services to help stakeholders identify relevant Australian Government contacts and map out a projects regulatory approval pathway. The MPFA also assesses applications for Commonwealth Major Project Status – providing eligible projects with formal recognition of their strategic significance to Australia, and enabling a greater level of assistance from the MPFA.

Major project proponents can also access an online help tool, Major Projects Help at www.majorprojectshelp.business.gov.au, that provides information about the regulatory approvals needed for a major project development. The MPFA assists projects across the whole of Australia and has offices in Launceston, Darwin and Canberra.
For more information, please visit www.business.gov.au/advisory-services/major-projects-facilitation-agency

---

Australian Govlink is Australia's only digital magazine dedicated to promoting partnerships between government and the private sector. Following research conducted by BGP Publishing with Council CEOs, General Managers, Engineers and Purchasing /Procurement Officers, BGP found the digital publication enabled senior management to forward Australian Govlink to all departments. This information led to BGP moving from hardcopy to the new digital format from 2015 and provides advertisers with a wider reach across the Local Government network in Australia and the ability to embed video files within your advertisement to maximize engagement with the reader.
For more information, please visit www.australiangovlink.com.au
---

Roads & Infrastructure Australia is a leading news resource for the Australian roads, civil engineering and infrastructure sectors. Roads & Infrastructure is a key source for industry decision-makers, contractors, engineers, asset managers and individuals in government and the private sector looking to keep informed on important issues, developments, projects and innovations shaping the infrastructure industry.
For more information, please visit www.roadsonline.com.au
---
EventsLinked is an online networking facility - specifically designed for conference and seminar attendees. It allows the attendees of an event to interact with one-another, before and after the event.
For more information, please visit www.eventslinked.com